Since its release in October 2012, Windows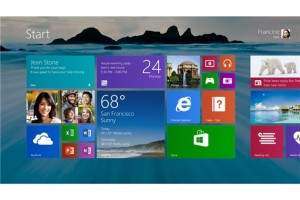 8 has been a source of frustration for its users. In Microsoft's attempt to improve Windows 7, an operating system that was already user-friendly, some features were changed that have left users and techies as well scratching their heads.
Wednesday, June 26th, the software giant released a beta version of Windows 8.1, formerly known as Windows Blue, for testing by software developers. Users are scrambling to be among the first to download the preview version of Windows 8.1, which is slated for release later this year.  Get your copy of Windows 8.1 Preview now.
So, what are some of the improvements that can be expected from Microsoft's newest release?
Return of the Start Button
In Microsoft's haste to make PCs more like touch screen tablets, the Start Button was removed, a fact that annoyed die-hard Microsoft fans. With 8.1, you will see the Start Button's return to the bottom left hand corner, which will take you to the Start Screen where you can see your apps and settings tiles.
Boot to Desktop
Upon startup/reboot, you can go directly to the Desktop instead of the Start Screen.
Additional Tile Sizes
Speaking of the Start Screen, you will have more control over the size of your app and settings tiles. For example, you can choose to display more info on your weather app tile, while at the same time making your news app tile a simple icon.
Revamped App Store
Microsoft's Windows Store already has over 80,000 apps to choose from with more being added daily. Upon the release of 8.1, you will see a redesigned Store as well as recommended apps just for you.
More App Resizing Options
Windows 8 allows you the capability of having two apps open side by side, one larger and one smaller. In 8.1, you will be able to adjust the sizes of the apps in precisely the way you choose. You can have them exactly the same size or whatever floats your boat
More Keyboard and Mouse Friendly
Much to the dismay of Windows users, Microsoft made it difficult for us to use a keyboard and mouse in an attempt to cater to touchscreen users. Version 8.1 will make life simpler for those without a touchscreen.
Lock Screen Features
The Lock Screen in 8.1 will double as a slideshow of your pictures. It will not just scroll through your photos but it will choose from pictures in the same time of year of previous years. You will also be able to access the camera app and Skype without having to login first.
These are just some of the many changes that are coming. Hopefully some of these changes will make your Windows 8 experience better.  Please feel free to comment below and let us know what you think about these new features that will be coming out in Windows 8.1 and as always, please share this info with your friends and coworkers.